States making the decision to take control of their health insurance market and establish a state-based marketplace (SBM) have many technology options to choose from. The state-based marketplace technology platform is a key enabler for states to achieve their public policy goals, but both performance and success are highly dependent on several critical factors. We outline the most important ones that a state must consider in their vendor selection process.
Achieving the public policy goal of increased enrollment
Supporting a Human-Centered Shopping Experience
Delivering a streamlined enrollment journey
Seamlessly transitioning consumer and broker data from the FFM (Federally Facilitated Marketplace)
Achieving The Public Policy Goal of Increased Enrollment
The state-based marketplace technology platform, together with a robust outreach and education program, marketing and branding efforts, and close partnerships with key stakeholders such as brokers, carriers, navigators, and assisters, is a key driver of the exchange's success in lowering uninsured rates and enrolling consumers into commercial insurance plans. As such, to measure the relative performance of SBM technology vendors, it is useful to review each state's enrollment change year over year. While many factors influence this performance measure, it is unquestionable that for a state to be able to achieve enrollment growth it must select a vendor which provides a reliable platform and a streamlined experience for the consumer. Enrolling in health insurance is complicated. Your technology platform should leverage human-centered design, plain language, and clear calls to action to reduce complexity and to make selecting and enrolling in the best plan simple.
Here, we look at the change of enrollment in the 15 state-based marketplaces that were in operation in both 2020 and 2021.[1]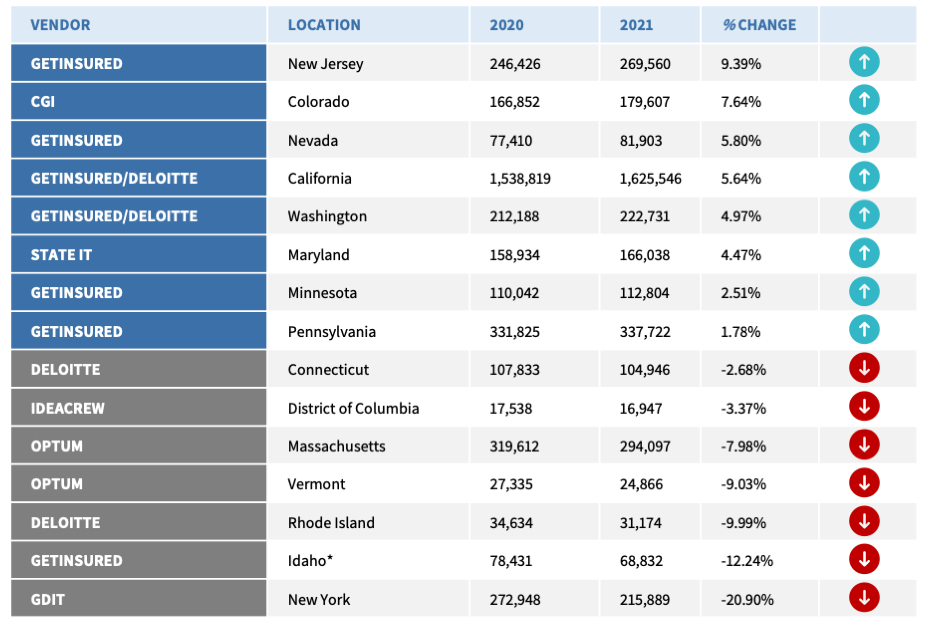 *Idaho expanded Medicaid in the plan year 2020. As of 2021, nearly 109,000 Idahoans enrolled in expanded Medicaid. As a result of this expansion, marketplace enrollment declined.
Across all 15 states with SBMs, eight experienced net increases in enrollment in 2021 compared to 2020. Of those eight, 75 percent use the GetInsured SBM platform two of the top three performing states use the entire GetInsured platform: from anonymous shopping to application and enrollment. In fact, all three states that became SBMs between 2019 and 2020 Nevada, New Jersey, and Pennsylvania recorded positive enrollment growth between 2020 and 2021.
Supporting a Human-Centered Shopping Experience
Most consumers prefer to view their plan options, provider and formulary directories, and costs prior to creating an account.  . Along with Anonymous Shopping, many SBMs have implemented tools that help consumers make better decisions about health coverage. These decision support tools are designed to help consumers navigate the complex process of selecting a health plan that is right for them. Decision support tools prompt consumers to enter some basic health information – for example, how many times a year they visit a doctor – to help the consumer select a plan that will best meet their unique needs. Anonymous shopping and help consumers evaluate plan and network options, as well as total health insurance costs,
The Council for Affordable Health Coverage performs a survey each year of marketplace websites, looking only at the functionality available to consumers before they create an account and apply for coverage[2]. This functionality can be largely customized by each state as they consider the preferences of various stakeholders and the demographic of their residents. The CAHC survey assesses the quality of each website's anonymous shopping tools, decision support tools, provider directories, and overall navigation and support. CAHC rates each website on a scale of 0 to 100. The results provide insight into the functionality a state prioritizes when designing the consumer enrollment experience. It should be borne in mind, however, that many states add functionality as the exchanges mature, and they are mindful of ensuring a continued smooth experience for their residents.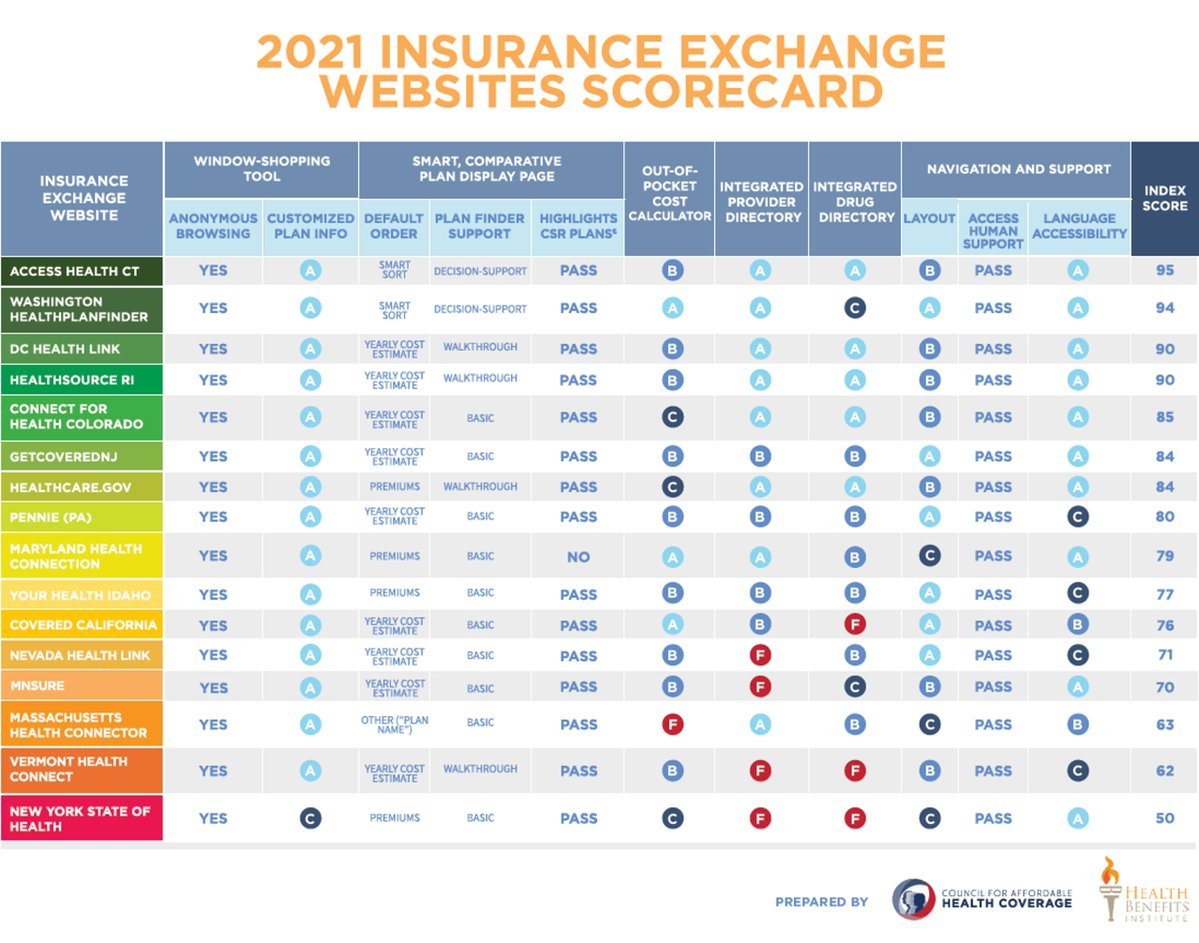 For 2021, the CAHC scored all 15 SBMs that were in operation in 2020, along with the federal marketplace HealthCare.gov. The average marketplace website score was 78. For the states that use the GetInsured platform, the average score was in line with the overall average, at 77 points. In fact, New Jersey and Pennsylvania – the two states that most recently became SBMs in 2020 – scored well above this average at 84 and 80, respectively.
GetInsured's human-centered approach to decision support, anonymous shopping, and provider directories allow SBMs to select from a menu of items to meet their residents' needs. Some states choose to implement all the available tools, while others use some tools, but not the provider directory. A new SBM will want to select a technology vendor that can provide a full suite of tools to support the consumer shopping experience, integrated with the core platform, to provide a cohesive experience from anonymous shopping all the way through enrollment.
A Streamlined Enrollment Journey
While anonymous shopping is useful for consumers to begin to evaluate their plan options, it is just one stop on the consumer's enrollment journey. The marketplace needs to ensure that the technology platform vendor provides a full suite of tools necessary to ultimately get the consumer enrolled in the health plan that works best for them. These include: a consumer-friendly application that guides the consumer through the application process; an eligibility engine that quickly, accurately, and clearly presents the consumer with their eligibility determination; seamless integration with the Federal Data Services Hub (FDSH), through which eligibility verifications are performed; plan shopping decision support tools that project the consumer's estimated costs based on their health care utilization, and guide the consumer towards plans that may be the right fit for their needs; and integration with insurance carriers' payment portal so that the consumer can make their first payment from within the exchange platform, reducing the risk of the consumer forgetting to make that first payment to initiate their coverage.
A mature, second-generation SaaS (Software as a Service) solution, the GetInsured platform comes ready with the following features to support the enrollment journey:
CMS-approved single streamlined application. This application captures all the information needed to reach financial eligibility determination or assessment for all insurance affordability programs.
Verification services which seamlessly integrate with the CMS (Center for Medicaid Services) Federal Data Services Hub (FDSH), a critical component to complete all necessary verifications as part of the eligibility determination process.
Award-winning decision support tools and highly rated provider and drug directories to help consumers narrow their plan choices to those that work best for their needs.
Integrated ability for consumers to make their first monthly premium payment directly to the carrier upon plan selection and completed enrollment. This has the dual benefit of enabling the state to increase its effectuation rate and ensure the greatest number of residents enroll in and maintain coverage. CMS reported in 2021 that New Jersey's effectuation rate increased by more than 10% between 2020 and 2021, coinciding with the state's transition from the FFM to an SBM on the GetInsured platform.[3]
Seamless Transition of Consumer and Broker Data from the FFM
Finally, when selecting an SBM technology vendor, the state should look long and hard at each vendor's experience migrating data from the FFM to the SBM platform.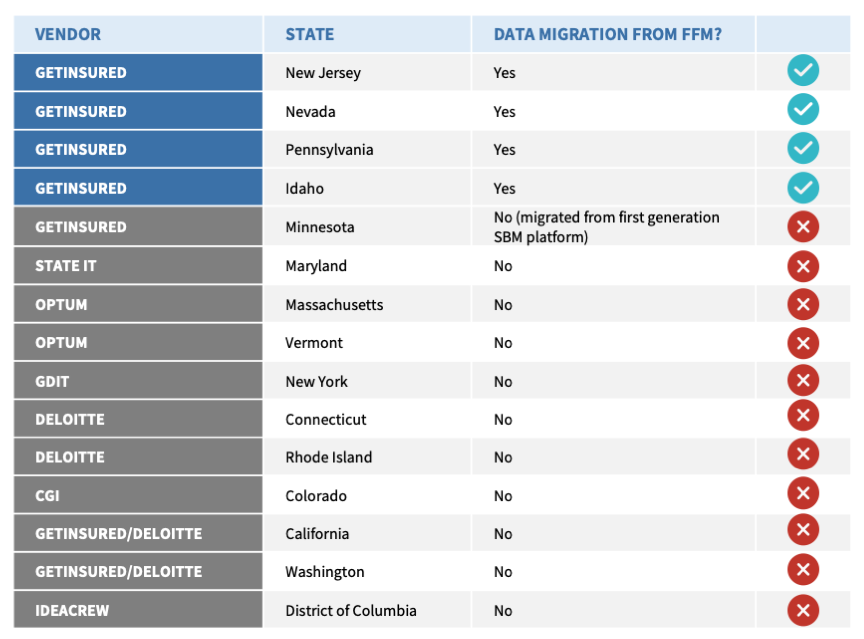 As you can see, there are many factors to consider when selecting an IT vendor to implement your state-based marketplace that go far beyond anonymous shopping. By selecting a widely used and mature SaaS platform, your state can get its SBM up and running quickly with minimal risk, providing an exceptional experience for your residents and other stakeholders. The ability to engage in continual platform innovation with the technology vendor in a cost-effective way allows the state to focus on achieving its policy and operational objectives.
References
1KFF.org: Marketplace Enrollment 2014 – 2021
22021 Health Insurance Exchanges 
3Effectuated Enrollment: Early 2021 Snapshot and Full Year 2020 Average