CMS released a report on June 25, 2020, that provides enrollment data for consumers who enrolled in a health plan outside of open enrollment (OE) in states operating their health insurance exchange on HealthCare.gov. While 12 of the 13 state-based marketplaces opened special enrollment period (SEPs) in which anyone could apply for coverage, residents of states on the federally facilitated marketplace had to experience a qualifying life change for a special enrollment period (SEP) to open for them to apply for or change their health insurance coverage. Due to the incredible job loss experienced across the country due to the COVID-19 virus, millions of consumers have experienced these life changes. 
CMS notes the following key findings of the report:
The number of consumers gaining coverage in states with Exchanges using the HealthCare.gov platform through the loss of MEC SEP is higher for the 2020 coverage year than for any of the prior coverage years in this report with approximately 487,000 consumers gaining coverage through the loss of MEC SEP, an increase of 46 percent from the same time period last year.

By month, the largest gain in loss of MEC SEP enrollments occurred in April 2020, with

enrollments increasing by 139 percent when compared to April 2019.

The number of consumers gaining Exchange coverage through the loss of MEC SEP dropped by about one-third from April 2020 to May 2020 but continued to be significantly higher—by 43 percent—than in May of 2019.

Looking at enrollments across all SEP types, there was a 27 percent increase in total SEP enrollments from the end of open enrollment through May from 2019 to 2020. The percentage change was actually higher during the period from 2017 to 2018, with an increase of 33 percent.

However, the higher increase in SEP enrollments from 2017 to 2018 could be attributed to the longer open enrollment period for 2017, which extended to January 31 and substantially shortened the period of time SEPs were available after the end of 2017 OE.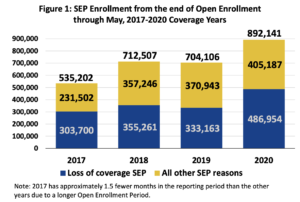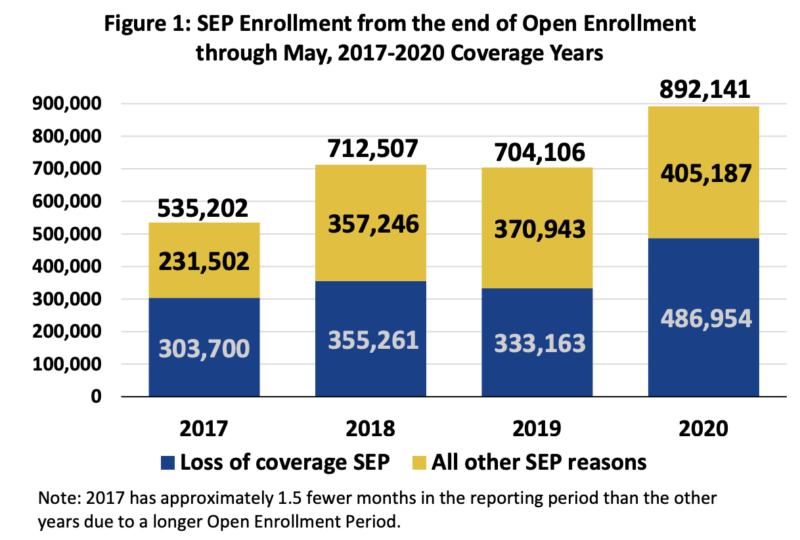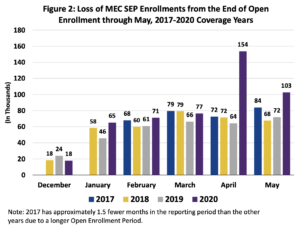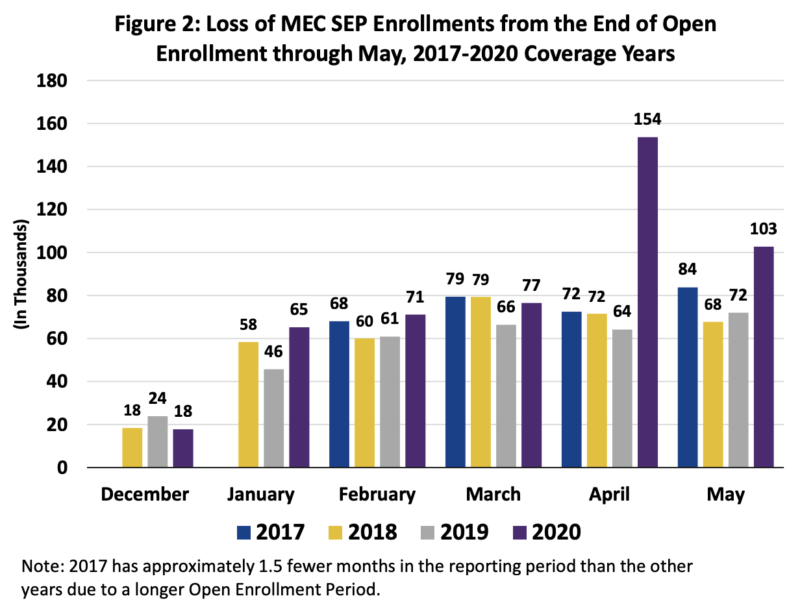 Interestingly, though, it's still unclear how many people will eventually come to the Exchanges for coverage. Here's why. The Bureau of Labor Statistics data shows when job losses spiked in April "97 percent of those surveyed identified their job loss as a temporary layoff—meaning either they had been given a date to return to work by their employer or that they expected to be back to work within the next six months. In addition, many of the newly unemployed may be able to maintain their prior job-based health coverage due to the fact that many employers have reported they are continuing to provide coverage to laid-off and furloughed employees."
So while the total magnitude of those who will have lost coverage due to the coronavirus pandemic cannot yet be quantified, there is no doubt that the virus has led to increased enrollments on HealthCare.gov.