How one of our own overcame the odds.
In 2023, an estimated 297,790 new cases of invasive breast cancer are expected to be diagnosed in U.S. women, along with 55,720 new cases of Ductal carcinoma in situ (DCIS), a condition that affects the cells of the milk ducts in the breast)1. No one ever want to receive a cancer diagnosis, but amidst its trials, stories of resilience and hope emerge. Today, we share the journey of one breast cancer survivor, who not only conquered the disease but also became an advocate for routine screenings and early detection. Her triumph serves as a powerful reminder of the importance of awareness and timely intervention.
Brandy Vermillion is many things. She is a mother, an athlete, a wife and an Executive Assistant at Change and Innovation Agency. She is also a woman who faced breast cancer head-on with unwavering determination. In our heartfelt conversation, Brandy emphasized the significance of routine screenings in saving lives, including her own.
"Breast Cancer does not discriminate. Know your lemons. Know your body. Know your family's health history. Early detection saves lives."
Brady discovered a small lump while performing a standard self-examination. Though she had had a routine mammogram only eight months prior, she called her doctor, they asked her to come in to the office right away and sent her for a mammogram almost immediately. Following a mammogram, an ultrasound, and a biopsy, Brandy was diagnosed with Stage 2 HER2-positive breast cancer. Breast cancer cells with higher-than-normal levels of HER2 are called HER2-positive. These cancers tend to grow and spread faster than breast cancers that are HER2-negative but are much more likely to respond to treatment with drugs that target the HER2 protein2.
Brandy's path to remission was not easy, but she persevered with immeasurable strength. Her treatment journey began in February 2023, with six cycles of Carboplatin and Taxotere, powerful chemotherapy drugs that played a crucial role in combating the disease. Over four months, Brandy underwent these treatments, enduring the ups and downs that come with chemotherapy, including losing her hair.
"I knew from the very first day I was going to beat this disease, because I know my God is bigger than cancer."
Brandy also received 18 cycles of Herceptin and Perjeta, monoclonal antibodies that offer targeted therapy. Administered every three weeks, these treatments continued alongside her chemotherapy. As of October 2023, Brandy has completed 12 cycles, and her last treatment is scheduled for February 2024.
On top of chemo and targeted therapies, Brandy also received 21 days of radiation treatment. This process began at the end of August and involved daily visits to the doctor from Monday to Friday for three weeks. With each session, Brandy moved closer to recovery, bolstered by the knowledge that her tenacity and the support of her medical team were turning the tide against breast cancer. She had her lumpectomy and sentinel lymph node biopsy surgery on July 28.
The defining moment came for Brandy on August 3rd when she got a phone call from her doctor saying she had a total pathological response to chemotherapy. They discovered there was no residual cancer in her body after they performed the surgery. All that remained from the tumor was the marker that was placed during her original biopsy.
On that fateful day, Brandy received what she describes as the best news of her life: she was declared 100% cancer-free. Her body had responded remarkably to the treatments, an extraordinary outcome that filled her heart and mind with profound gratitude. Brandy's strength and resilience had prevailed, and she emerged from her battle as a triumphant survivor.
Brandy's story not only highlights the incredible progress made in breast cancer treatment but also emphasizes the importance of early detection. Routine screenings provide the critical foundation for identifying cancer at its earliest stages when it is most treatable. According to the American Cancer Society, when breast cancer is detected early, and is in the localized stage, the 5-year relative survival rate is 99%. Brandy's experience serves as a poignant reminder to prioritize our health and empower ourselves with knowledge.
Brandy's journey is a beacon of hope and inspiration, reminding us that breast cancer can be overcome. Today, Brandy actively involved with her local Young Survival Coalition group. They are an international group focusing on women ages 40 and under who are diagnosed with breast cancer. They are a group of women that are survivors and thrivers, meeting at least once a month and participating in events throughout the community to uplift, encourage, support, and educate everyone about the importance of mammograms and self-exams.
"Early detection absolutely saves lives. I also post on my Instagram and Facebook pages every month reminding my followers to perform self-checks and do not miss those mammograms. I have someone reach out to me at least once a month if not more telling me how much my story has impacted their life and because of my diagnosis they will never skip another doctor's appointment, mammogram, or self-exam."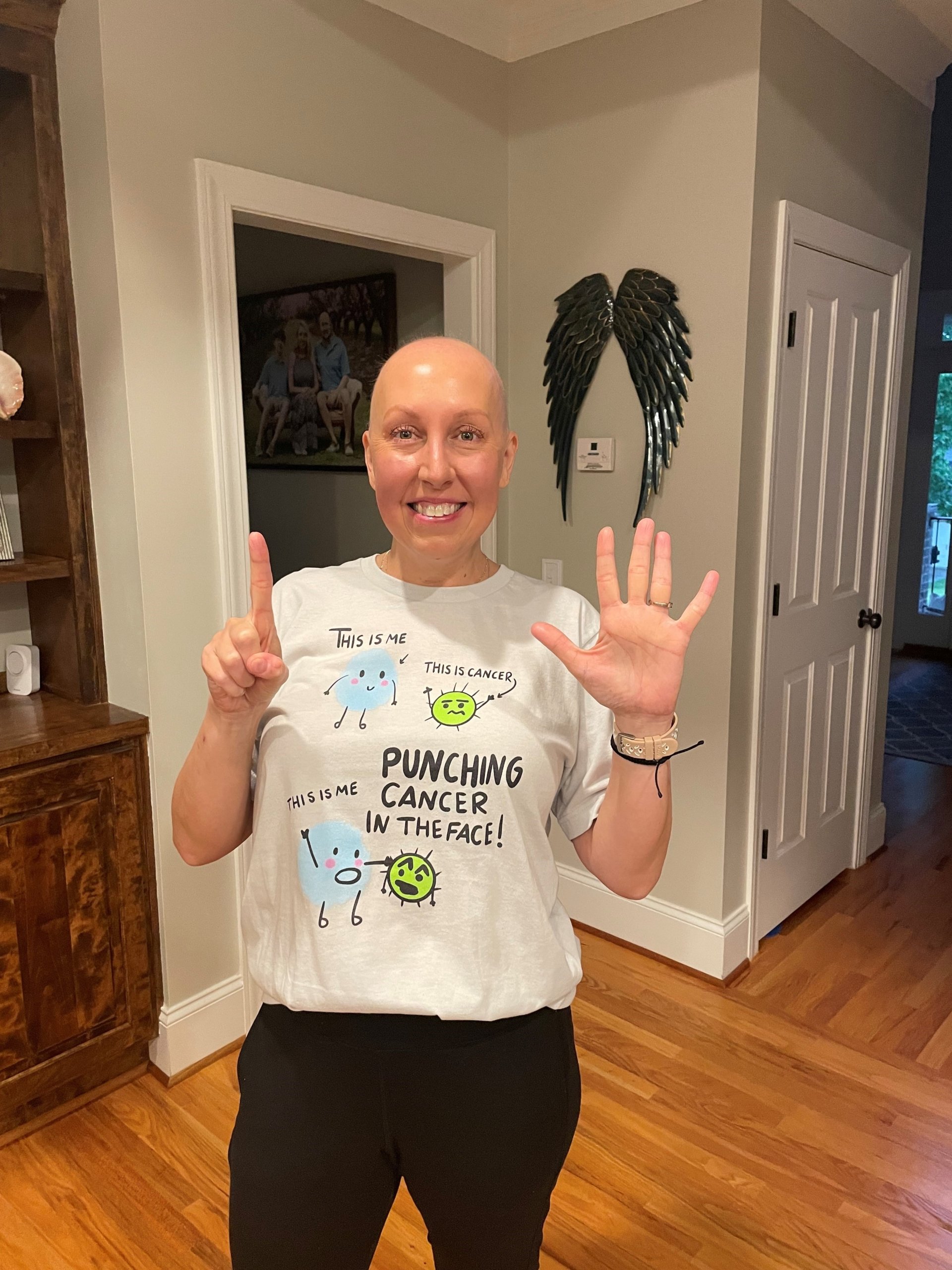 Brandy capturing one of the happiest days of her life: the last day of chemo. The image radiates joy, capturing the essence of her triumph and serving as a testament to the indomitable human spirit.
—
https://www.breastcancer.org/facts-statistics
https://www.cancer.org/cancer/types/breast-cancer/understanding-a-breast-cancer-diagnosis/breast-cancer-her2-status.html#:~:text=Breast%20cancer%20cells%20with%20higher,that%20target%20the%20HER2%20protein.