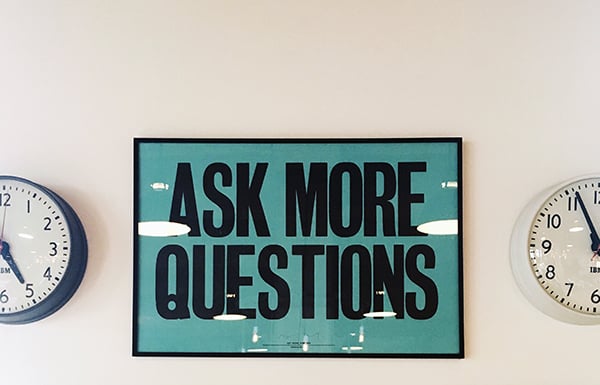 Okay, this post is a bit lengthy, but when it comes to finding the best health insurance coverage for you and your family, there's a lot to consider. That's why we're here to answer all of your questions during Open Enrollment (and beyond). We're experts so you don't have to be. Here are the top ten questions you've been asking so far this enrollment period:

1. I am recently divorced. How do I know who is required to purchase health insurance for our child?
The parent that will be claiming the child (or children) as a dependent at tax time is also the parent responsible for providing the minimum essential coverage required under the Affordable Care Act. Or, if you qualify, this parent can enroll the child (or children) in Medicaid or Children's Health Insurance Program (CHIP).

2. How long after I enroll does my plan kick in?
If you enroll between the 1st and the 15th of the month, your plan will begin on the 1st day of the following month. If you enroll between the 16th and the 31st of the month, your plan will begin on the 1st day of the month after that.
Let's say you enroll in a health plan on January 1st. Your plan will become effective February 1st. But if you enroll on January 16th, your plan won't be effective until March 1st.

3. I'm a single parent and every dollar counts. How can I find affordable health insurance?
Every state in the U.S. offers free or low-cost health insurance to qualifying children under Medicaid and the Children's Health Insurance Program (CHIP). These programs might have a different name in your state, and the eligibility requirements definitely vary. So before you do anything else, check your state's Medicaid and CHIP guidelines to see if your child is eligible. Depending on your income level, you may also qualify for Medicaid.
If you're not eligible for Medicaid or CHIP, you still might qualify for money-saving tax credits. Last year, 87% of marketplace customer qualified for tax credits to help lower their monthly health insurance premiums.*

4. Can I cancel my health insurance at any time and get a new policy?
While you can drop your health insurance plan at any time, if you do so outside of the open enrollment window, you won't be able to enroll until the next open enrollment period unless you experience a qualifying life event, such as a job change, a new baby, or moving to a new zip code.

5. How does tobacco usage affect coverage?
In short, for major medical policies, the answer might be yes. Depending on what state you live in and which carrier you choose for your health insurance, your premiums could potentially be up to 50 percent higher than a similar policy for someone your age and in your area who doesn't smoke.
6. How do I know if my doctor is on my plan?
The quickest way to find out whether an insurance plan covers your doctor is to call the insurance carrier and the physician's office and ask. You can also check your insurance company's website to see if your preferred doctor comes up under their covered physicians.

7. How do deductibles work?
A deductible is an amount you must pay out-of-pocket for your healthcare before your insurance company begins to kick in for many covered healthcare services. In general, you will have to pay the full cost for covered services until you've reached your annual deductible, at which point the insurance company will begin to pay its portion of your medical costs.
Generally, all payments you make for covered healthcare services will count toward your annual deductible, unless the payment is considered a copay. No matter how many copays you make they generally don't count toward your deductible.

8. What documentation do I need to enroll?
When you enroll in a health plan through a marketplace you'll be asked for some basic documentation to help verify your identity and to help determine the best and most affordable plan for you and your family, including:
Your social security number (or document ID number if you're a legal immigrant)
Information about your current income—either a pay stub, your W-2 tax form, or your most recent tax return
Details about any other income, such as unemployment checks, child support, veterans payment, alimony, retirement income, etc.
The number of people in your household—this is the number of people who you'd claim as dependents, whether or not they live with you
If applicable:
Information about your student loan interest
Information about your current health coverage, if you have a health plan now
9. Can I buy health insurance that's not Obamacare?
Yes. The term "Obamacare" actually refers to the Patient Protection and Affordable Care Act (PPACA), which is also commonly referred to as healthcare reform, the Affordable Care Act, or the ACA. The goal of this law is to give more Americans access to affordable quality health insurance, and to help reduce the growth in healthcare spending in the U.S. The law doesn't require you to purchase health insurance through a federal or state government exchange, or require you to use federal tax credits to help pay for your coverage.

10. Is it possible to backdate my insurance?
In general, the answer to this question is No. But like any rule, there are some exceptions. One exception is when it comes to coverage for a newborn or an adopted child. In this case, their coverage can start the day they're born or adopted even if you didn't add them to your plan immediately.
Another exception is Medicaid. The effective date upon approval when you sign up for this program is typically the date you submit your application even if you don't receive immediate approval. In some states Medicaid will pay for any outstanding medical bills that you incurred three months prior to your approval date. (This varies from state to state so be sure to check in with your state's Medicaid office to see how it works where you live.)
Still have questions? No problem. For additional assistance, licensed agents are available at (866) 602-8466 Monday – Thursday 9:00-10:00 ET; Friday 9:00-8:30 ET; Saturday 10:00-6:00 ET.
*Centers for Medicare & Medicaid Services: March 31, 2016 Effectuated Enrollment Snapshot