Earlier this year when the COVID-19 pandemic first hit the U.S., many states operating on the Federally Facilitated Marketplace (FFM), including New Jersey and Pennsylvania, urged the federal government to open a Special Enrollment Period for health insurance. While the FFM denied such requests, 12 of the 13 states operating a state-based exchange (SBE) opened extended special enrollment periods to assist uninsured residents. Now, as we approach the 2021 open enrollment period, FFM states are once again asking the federal government for assistance by way of an extended open enrollment period, as they are unable to change their own dates. 
Michigan and Wisconsin have asked that the time period that people can enroll in a health insurance plan on healthcare.gov be extended from its current end date of December 15, 2020 to January 31, 2021. Wisconsin Commissioner of Insurance Mark Afable says:
"The COVID-19 pandemic and accompanying economic fallout have magnified the importance of quality, affordable health coverage. The pandemic has likely increased the need for health insurance while posing enrollment challenges, especially for those who might be new to the HealthCare.gov marketplace and need assistance in signing up. An Open Enrollment period extension would allow additional outreach and assistance to those who may have lost coverage due to the pandemic."
In Michigan, just about 260,000 residents enrolled in coverage for 2020 through the Health Insurance Marketplace, nearly 80% of whom qualified for free or reduced cost coverage through federal tax subsidies. A report from the National Center for Coverage Innovation found that Michigan experienced a 46% increase in the number of uninsured adults from February to May 2020, which the state believes underscores the need for federal action.
Taking control of their own markets for 2021, New Jersey and Pennsylvania recently announced the launch of state-based exchanges, gaining policy flexibility in the process, allowing extended open enrollment periods, like Michigan and Wisconsin are seeking from the federal government. Other state-based marketplaces have also extended their open enrollment periods, most running into mid-late January.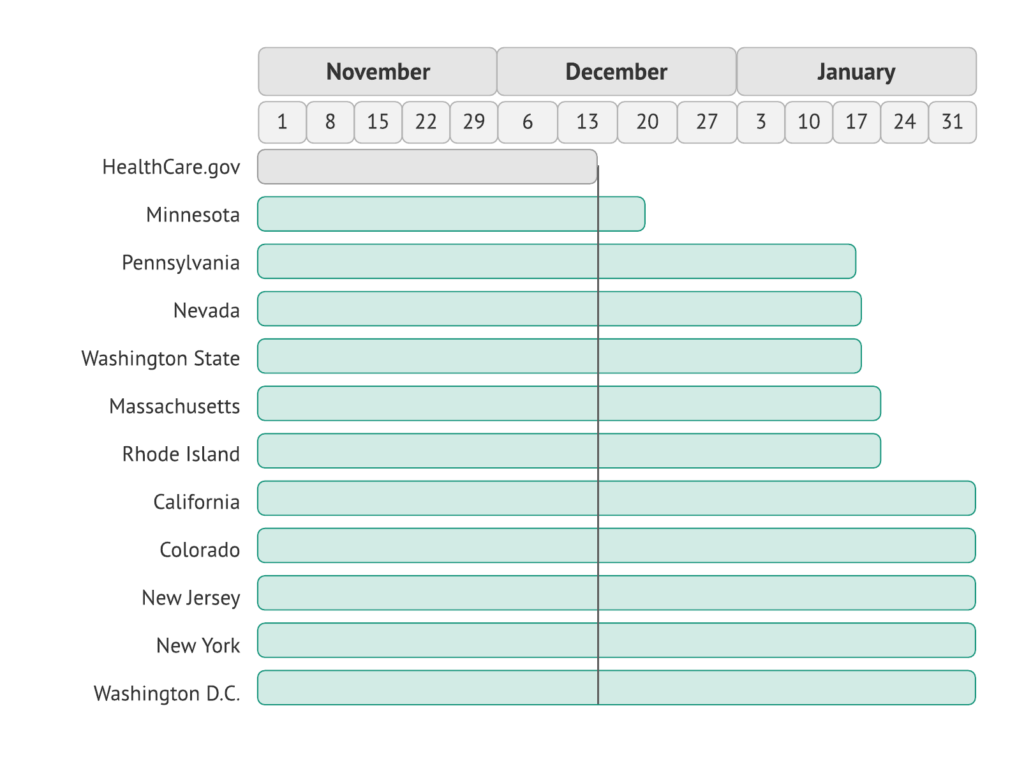 SBE states not only have the flexibility to respond to COVID-like emergencies, due to the flexibility of the underlying system, open enrollment can be extended at a click of button (literally). Pennsylvania and New Jersey  were able to implement their own exchanges in less than a year and are now beginning to realize the many benefits of having control of their own health insurance markets, including being able to extend their OEP by month and six weeks, respectively. 
Heather Korbulic, Executive Director of the Silver State Health Insurance Exchange (Nevada Health Link), now in its second year of operating as an SBE said, "I can convincingly say that we are set up for flexibility in a way that the federal exchange cannot and will not be in any way, shape, or form, ever."